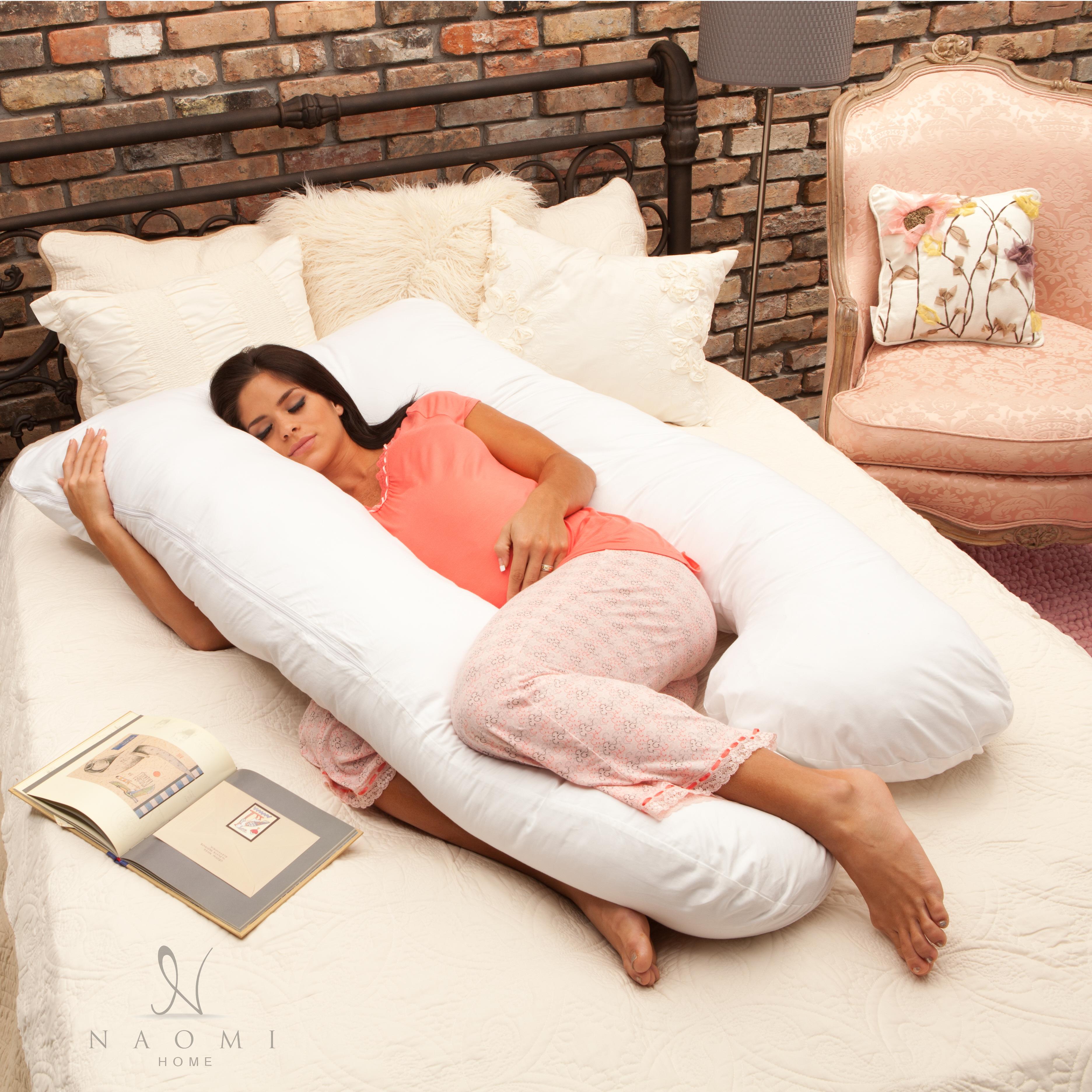 Pregnancy is a very critical stage for any woman. Pregnant women also tend to be highly emotional during this period. The body goes through different changes to create a suitable environment for the baby. These adjustments are also the major reason for the discomfort experienced by pregnant mothers.
The mother needs complete rest to recover from the stress caused by pregnancy. One of this is proper care, especially during the final months of pregnancy. Aside from care provided by the husband and other family members, one effective implement for support is by choosing the best pregnancy pillow.
Things to Consider When Choosing a Pregnancy Pillow
The pregnancy pillow is designed to support various parts of a woman's body. It helps alleviate the pains of pregnancy arising from the transformation that takes place. However, it is important to choose the most appropriate pillow for your condition. Get one that meets your specific needs depending on the discomfort that you experience. It can be the conventional full-body pillow which serves as a relaxing sleeping aid. There is a smaller version that fits only the abdomen. Still another is the pillow that can be tucked in between your legs and knees. You will find a variety of styles manufactured by reputable companies if you visit an online or offline retailer that sells bedding accessories.
?Choose a full-body pregnancy pillow to provide support for the head, back, hips and neck. It should also help keep the pelvis in an open position while you sleep. This type of pillow is placed between your legs to enhance body alignment aside from holding up your head and body.
Opt for a wedge pregnancy pillow if you want to support your stomach while sleeping on your side. You can also put this pillow between your knees. It can facilitate alignment of your back, legs and hips. The wedge pregnancy pillow is small and handy for traveling.
Consider an organic pillow if you prefer an all-natural product or allergic to specific materials and fabrics. The organic product also supports the head and tummy.
You can look for other options if you cannot get full support from the pregnancy pillow. It is possible to buy two pregnancy pillows to satisfy your requirements.
?Try breathable fabric. The temperature of a pregnant lady increases at nighttime because of excess flow of blood. In this case, try the extra breathable pillow to derive absolute comfort during these periods.
5 Best Pregnancy Pillows
1. The Boppy Pregnancy Wedge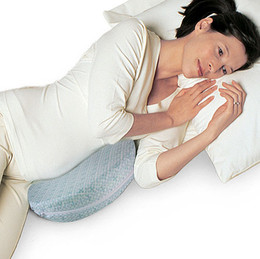 The smallest pillow in this category, the pillow has the shape of a half moon. Place the foam beneath your tummy while lying on your side. The pillow should be close to your body for proper elevation. The height should be between four and eight inches. You will be relieved if the wedge is positioned properly. You feel the heaviness disappear from the shoulders, back and hips. The pregnancy wedge offers more comfort if the slant is a bit steep. Just make sure that it stays in place during the night. If you turn over, move the pillow to the other side and insert it under your stomach again.
2. Leachco Back 'N Belly Chic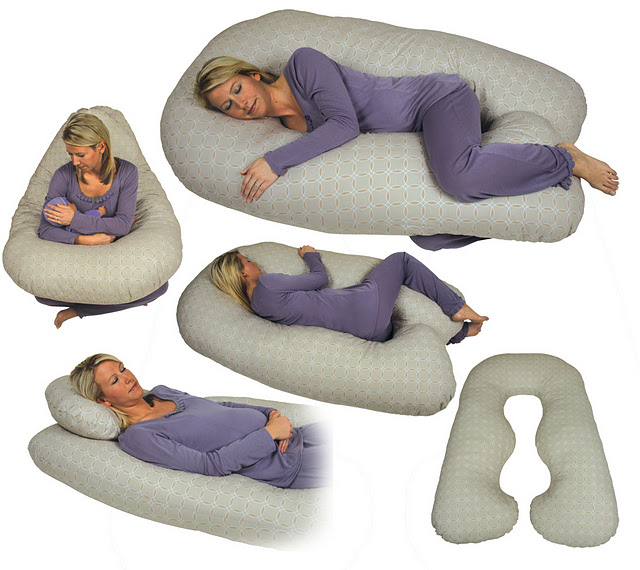 This is a special body pillow that provides adequate support to the growing belly. It is also meant to ease a painful back. The inner curves adopt your body shape for a perfect rest. The pillow requires no repositioning. It also gives equal support to your stomach and backside. Moms will surely love the comfortable curved neck support. There are overlapping ends for double head support and elevates your upper and lower torso. The pillow comes with a cover that can be zipped easily and removed for washing.
3. Oversized Total Body Pregnancy Pillow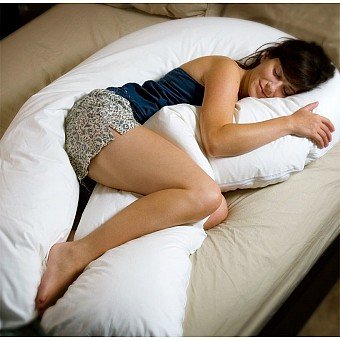 This pillow provides full comfort from head to toe. The candy cane shape may look odd. However, it is in effective in mitigating late pregnancy distress, stiffness, and body aches. The pillow is designed with contours to extend support, comfort and elevation for the whole body. Tuck the pillow between your knees to avoid hip and back stress.
It aligns your spinal column and allows movement of cool air. The length supports your body. Likewise, the broad head section ensures a comfortable sleeping position. The product is given high ratings by Amazon customers because of the full support that it provides.
4. KHOMO Extra Light Maternity Pillow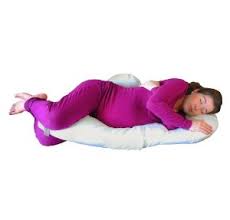 This pillow has a cushion for back support which you can adjust easily. It also comes with a detachable back. The foam takes form between your legs for maximum support. You can hug this pregnancy pillow since it fits the curves of a pregnant woman perfectly. It ensures total comfort as a result of these features. It is lightweight and not cumbersome with a zipper for easy removal. The primary benefit of the light maternity pillow is its effective back support, comfort and easy adjustment. The pillow reduces backpressure caused by the extra weight of your belly. The pillow also makes it easier for you to sleep longer on your side. Lastly, it ensures shoulder support because of the light material.
5. Sealy – SweetPea 2-in-1 Maternity & Nursing Pillow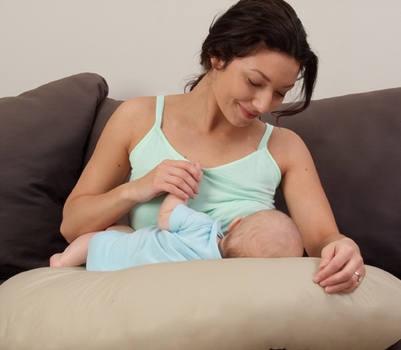 SweetPea 2-in-1 Maternity & Nursing Pillow provides relaxing sleep for pregnant women. The Sealy pregnancy pillow also produces a secure nursing corner for your baby. The design makes the pillow full and helps make straight your lower body. Thus, it reduces pressure on your pelvic area and posterior. The conical end lightens stress on your arms. It provides a comfortable nursing position for the mother as well. The maternity and nursing pillow supports different stomach sizes and alleviates acid backflow. The pillowcase is made of a soft-woven Microfiber and hypoallergenic fillings which guarantee absolute comfort. The package also consists of a detachable and washable zippered case.
Another Best Pregnancy Pillow Recommended–Bump Nest Pregnancy Pillow Review: